We're America's Premier Source for Reconditioned RV Cooling Units for Dometic and Norcold RV Refrigerators
Top Quality Dometic Cooling Units and Norcold Cooling Units for RV Refrigerator Repair
Welcome to America's premier source of RV refrigerator fridge parts for Dometic and Norcold refrigerators. We also stock GE, Hadco, Instamatic, Magic Chef and Sanyo repair parts. Our galvanized replacement cooling units give new life for repairing propane, 3 way refrigerators. As a direct-to-dealer supplier, we deliver RV cooling units built so well that they're superior to the original equipment they replace. If you need to repair a failing RV refrigerator by Dometic or Norcold, your best bet is choose a galvanized replacement cooling unit from ATCO. We've been in business 25 years, and have sold over 50,000 units. We're built to last. We have a very large selection of Dometic and Norcold RV refrigerator repair cooling units in stock. Click here for cooling units.
Dometic Refrigerator Troubleshooting and Norcold Refrigerator Troubleshooting
Use our RV refrigerator troubleshooting guide to figure out what might be wrong. Chances are if your RV refrigerator is not staying cold, a Dometic or Norcold part has rusted through
Not Galvanized? Not as Good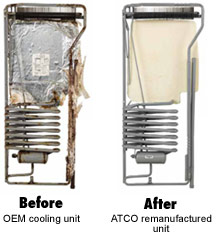 Come to ATCO for top quality Dometic and Norcold fridge replacement parts. When an RV refrigerator fails, it's not clogged, it's almost always because of rust, which creates a leak, and that tell-tale ammonia smell—because it's not galvanized like an ATCO RV refrigerator cooling unit.. Our unique galvanizing process bonds cooling tubes in a protective coating of pure zinc. It results in a cooling unit that won't rust and lasts much longer than original equipment for a longer operating RV refrigerator, with fewer repairs . Find out more about our unique galvanized cooling units on our Products page.
Rush Delivery of RV Refrigerator Cooling Units in 24 to 48 hours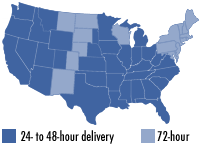 With distribution warehouses located across the U.S.A., the ATCO America Galvanized cooling unit you need is just a day or two away. Repair your RV refrigerator faster, with quick delivery. We can deliver a superior ATCO product within 24 to 48 hours to most dealers throughout America. Find shipping info here
Note: All prices listed on this web site are cash discounted retail prices.