About us
ATCO cooling units are galvanized and that means no rust. No one else offers galvanizing, so no one else offers our level of rust protection.
Galvanized RV Cooling Units – A Unique Approach to Beating Rust
By far the most common cause of failure of Dometic and Norcold RV refrigerator cooling units is rusted tubes within the foam block. At ATCO we've built our business by improving the product rather than just replacing it. With our unique remanufacturing process, we bond tubes with pure zinc in a galvanizing process to provide unparalleled rust protection and a longer useful life. There is no better way to repair your RV refrigerator.
Committed to a Better, Longer Lasting Replacement RV Cooling Unit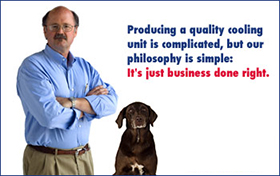 We started out in 1990 to find a better way to provide long-lasting replacement cooling units for Dometic and Norcold RV refrigerators. After much experimentation, we realized there is only one real answer to preventing rust in tube sets: galvanizing. We perfected our process of applying 99-percent-plus pure zinc to tubing, and 50,000 units later our solution has been proved in the field. No other remanufacturer (or manufacturer, for that matter) uses galvanizing. Rust is a big reason why original cooling units fail—and why ATCO America Galvanized replacement units outlast original equipment. Galvanizing isn't easy. It takes skill and commitment, but it's worth it to provide you and your customers with the highest-quality product.
Business Done Right. We Stand Behind our Galvanized Cooling Units
Throughout our growth, we've maintained our personal commitment to customer service and product quality. We take great pride in our high customer satisfaction levels and extremely low warranty-return rate. For us, it's about business done right, and that means:
Produce the best product – our unique galvanizing process ensures this.
Guarantee our work – we offer a two-year standard warranty, with an optional third year.
Provide great service – we provide speedy delivery and installation support.
Commitment to improvement – we constantly work to improve our product and process, from environmental awareness to LEAN manufacturing techniques.
We love what we do – we've worked hard to build our reputation, and we believe it shows in our outstanding customer satisfaction levels and the high-quality cooling units we produce.
Who We Are

Chuck Crowe
Owner and President
Chuck founded ATCO America Galvanized in 1990. He moved from his native Idaho to Oregon to work for CH2M Hill, one of the world's largest engineering consulting firms. After 13 years there, he decided to become his own boss and chose to create ATCO.
ATCO America Galvanized is an associate member of the Recreational Vehicle Dealers Association (RVDA), ad Chuck has served on the RVDA Convention/Expo Task Force. He was also on the 2006 Recreational Vehicle Industry Association (RVIA) review committee for their Learning Center RV refrigerator training modules.
Chuck has also been the chair of the Corvallis/Benton County Economic Development Partnership, and is active with other community and business organizations. His education is in engineering and business management. Chuck is the owner of Darby the shop dog. ATCO's mascot.
Tabetha Hronek
Office Manager
Tabetha is ATCO's new Office Manager and Customer Service Representative. Tabetha has many years of experience in both departments. She has worked multiple years for Army Air Force Exchange Service overseas and throughout the United States. The last 15 years she has worked as Office Manager for a small local company here in the Willamette Valley. Tabetha is a native Oregonian, enjoys the great outdoors and spending time with her family and friends.