Contact Us
Telephone
Local: 541-929-2820
Toll Free: 1-800-227-3180
Mailing Address
ATCO America, Inc.
3200 West Hills Road
Philomath, Oregon 97370
Contact Us About Quality RV Cooling Units
To help us serve you better and for faster response time please include as much information below as possible. For specific questions you have please use the additional information box and also let us know how you prefer we contact you. Thank you!
Rush Delivery of RV Refrigerator Cooling Units in 24 to 48 hours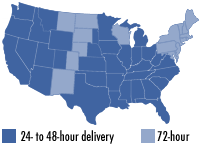 With distribution warehouses located across the U.S.A., the ATCO America Galvanized cooling unit you need is just a day or two away. Repair your RV refrigerator faster, with quick delivery. We can deliver a superior ATCO product within 24 to 48 hours to most dealers throughout America. Find shipping info here
Note: All prices listed on this web site are cash discounted retail prices.