ATCO RV Refrigerator Cooling Units: Galvanized – Better Than New, Better Than the Rest
We're America's Premier Source for Remanufactured Parts for RV Refrigerator repair.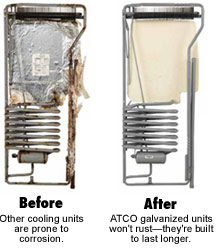 As a dealer, you're regularly faced with having to repair customers' original equipment that has failed. With RV fridge cooling units, that's almost always due to rust. It's reassuring to know that you can offer your refrigerator customers a remanufactured part that's superior to the original. That's why we developed our unique galvanizing process, which bonds tubes with a protective coating of pure zinc. The tubes won't rust, and our remanufactured Norcold and Dometic cooling units typically last much longer than the original equipment.
No one else offers the protection of galvanizing. That's why ATCO is your best choice for cooling units. We'd be happy to tell you more about our products—give us a call today.

RV Cooling Unit Catalog: Dometic Cooling Units, Norcold Cooling Units, GE Cooling Units, Hadco Cooling Units, Instamatic Cooling Units, Magic Chef Cooling Units, Sanyo Cooling Units.
ATCO's galvanized cooling units provide rust protection that original equipment doesn't have. We carry in-stock replacement units for Dometic, Norcold and many other RV refrigerator manufacturers. Click here for the Cooling Units Catalog.

RV Heating Unit Catalog: Astral Heating Elements, Dometic Heating Elements, Norcold Heating Elements and more.
ATCO heating elements feature stainless steel construction for reliability so good that we back it with a standard two-year warranty. Click here for the Heating Elements Catalog.
Rush Delivery of RV Refrigerator Cooling Units in 24 to 48 hours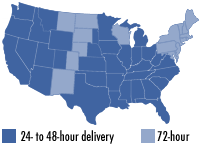 With distribution warehouses located across the U.S.A., the ATCO America Galvanized cooling unit you need is just a day or two away. Repair your RV refrigerator faster, with quick delivery. We can deliver a superior ATCO product within 24 to 48 hours to most dealers throughout America. Find shipping info here
Note: All prices listed on this web site are cash discounted retail prices.