Warranty Information
Limited Two-Year Warranty
ATCO America Galvanized cooling units carry a limited two-year warranty. Warranty documents are shipped with the unit and should be kept in a safe place after installation. After determining the unit is defective, and at ATCO's discretion, we will either replace the unit from stock or repair the defective unit. If the warranty claim is filed within two (2) years from the date of sale (or three [3] years under an extended warranty), the unit will be replaced at no charge (parts only). If a warranty claim is filed within the first thirty (30) days from the sale, with prior approval from ATCO, we will also pay reasonable freight costs (usually UPS) within the 48 contiguous states.
Extended Warranty
An extended warranty option is available on all ATCO cooling units for an additional $75. This option extends the unit replacement period to three (3) years from the date of purchase.
What to Do
If you have a possible warranty claim, call ATCO America Galvanized Technical Support at the number listed on your warranty form. You must have the Unit ID number, the date of sale and the type of unit (all information found on the original invoice). The customer service representative will need the following information so that we can expedite your claim.
Ammonia smell? Yes / No
Stains or leaking? Yes / No
Freight damage? Yes / No
Bench test before installation? Yes / No
Ambient temperature
Refrigerator temperature

Freezer temperature
Has the thermostat been checked? Yes / No
Level checked? Yes / No
Amp check with amp clamp
Actual draw
ATCO America Galvanized Limited Warranty Retail Sales
This cooling unit is warranted (unit only, no freight costs) to be free from defects in material and workmanship under normal use and service for the period of two (2) years from the ATCO INVOICE date. Warranty claims must be made through ATCO. Within thirty (30) days of INVOICE date and with prior approval, ATCO will pay reasonable freight costs (usually UPS) within the 48 contiguous states if the cooling unit is determined to be defective. Beyond thirty (30) days from INVOICE date, all freight, installation and/or repair costs are the responsibility of the customer. THE CUSTOMER MUST OBTAIN AUTHORIZATION FROM ATCO PRIOR TO THE RETURN OF ANY DEFECTIVE COOLING UNIT.
This warranty extends only to the original purchaser. This warranty shall not apply to any cooling unit that has been subject to misuse, neglect, accident or abnormal conditions of operation. Examples of conditions not warranted include but are not limited to the following:
Improper installation (see the How it Works/Installation section on this site).
Improper operation

Running the cooling unit out of level.
Applying a heat source not within the original manufacturers specifications.

Cooling unit alteration.
To be considered under this warranty, the unit only must be returned to the ATCO America Galvanized manufacturing facility within the warranty period with the unit I.D. sticker intact. ATCO will test the cooling unit and, if the examination discloses to our satisfaction that the failure is due to a manufacturing defect and is covered by this warranty, ATCO will repair, or at our option, replace the cooling unit only, without charge. If the failure has been caused by misuse, neglect, accident or improper installation, all freight, repairs and manufacturer labor will be billed back to the customer at regular cost. Upon request, an estimate will be provided before work is started.
THE FOREGOING WARRANTY IS IN LIEU OF ALL OTHER WARRANTIES, EXPRESS OR IMPLIED, INCLUDING BUT NOT LIMITED TO ANY IMPLIED WARRANTY OF MERCHANTABILITY, FITNESS OR ADEQUACY FOR ANY PARTICULAR PURPOSE OR USE. THERE ARE NO WARRANTIES THAT EXTEND BEYOND THE DESCRIPTION ON THE FACE HEREOF. THE MANUFACTURER SHALL NOT BE LIABLE FOR ANY SPECIAL, INCIDENTAL OR CONSEQUENTIAL DAMAGES, WHETHER IN CONTRACT, TORT OR OTHERWISE. THIS WARRANTY GIVES YOU SPECIFIC LEGAL RIGHTS, AND YOU MAY ALSO HAVE OTHER RIGHTS THAT VARY FROM STATE TO STATE.
Rush Delivery of RV Refrigerator Cooling Units in 24 to 48 hours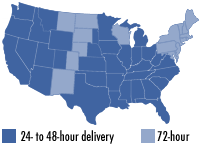 With distribution warehouses located across the U.S.A., the ATCO America Galvanized cooling unit you need is just a day or two away. Repair your RV refrigerator faster, with quick delivery. We can deliver a superior ATCO product within 24 to 48 hours to most dealers throughout America. Find shipping info here
Note: All prices listed on this web site are cash discounted retail prices.